Alannis Sheppley
Biographical information
Born

c. 1979

Blood status
Title(s)

Ravenclaw Duelling Club Captain

Physical description
Species
Gender

Female

Hair colour

Blond

Eye colour

Blue

Skin colour

White

Family information
Magical characteristics
Animagus

Husky

Boggart

Spiders

Wand

Cypress unicorn hair

Patronus

Husky

Affiliation
House
Loyalty
.
"Thanks for teaching us that. Be careful though, you might find some Ravenclaws casting it at you in future duels!"
—Alannis to Harry after learning Levicorpus.
Alannis Sheppley was a Ravenclaw student at Hogwarts School of Witchcraft and Wizardry in 1990 She played casual Quidditch matches with other students during the 1996–1997 school year. In her last year by 1996 she was the captain of the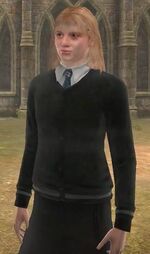 Ravenclaw Duelling Club. In 1998, Alannis returned to Hogwarts to fight the battle that was going at school. As the former head of the Duelling Club for her house, Alannis did very well during the fight against the Death Eaters. She had led groups of wizards who expelled the Voldemort's followers to the second floor and the Transfiguration Courtyard. Alannis survived the battle.