Jurassic World: Dominion Dominates Fandom Wikis - The Loop
Play Sound
Albus Percival Wulfric Brian Dumbledore
Biographical information
Born

Summer 1881

Mould-on-the-Wold, England, Great Britain

Died

30 June, 1997 (aged 115) Killed by Severus Snape what he wanted, Astromony Tower, Hogwarts Castle, Highlands, Scotland, Great Britain

Blood status
Title(s)

Professor

Headmaster

Grand Sorcerer

Surpreme Mugwump

Chief Warlock of the Wizengamot

Signature

Albus Dumbledore

Species
Gender

Male

Height

5'11"

Hair colour

Silver, formerly Red

Eye colour

Blue

Skin colour

Pale

Family members

Davi Dumbledore (paternal ancestor)

Percival Dumbledore

(father)

Kendra Dumbledore

(nee Longbottom) (mother)

Ariana Dumbledore

(sister)

Aberforth Dumbledore

(brother)

Honoria Dumbledore

(paternal aunt)

Boggart

The corpse of Ariana

Wand
Patronus

Phoenix

Occupation

Head of

Transfiguration department

(?-pre

1955

)
Columnist for

Transfiguration Today

(

1926

-?)

Headmaster

of Hogwarts (pre

1971

-killed by Severus Snape)

House
Loyalty

Transfiguration department

British Ministry of Magic

Council of Magical Law

International Confederation of Wizards

Dumbledore family

.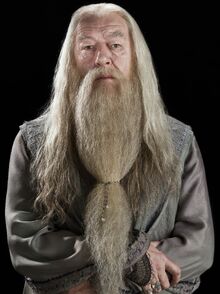 "Albus Percival Wulfric Brian Dumbledore is the greatest sorcerer in the world.''
The chat between Harry Potter and Tom Riddle.
Albus Percival Wulfric Brian Dumbledore (1881-1997) was named Albus for him and Al, Percival for his father, Wulfric for his and Snape's ancestor, Brian for origina,l and a founded latin name by his ancestor, Dumbledore.
this one is the greatest wizards of all time. Everybody thought he and Grindelwald were gay. He lived with his parents Kendra and Percival Dumbledore along with his siblings Aberforth and Ariana. His sister was doing magic at the age of 6 and the Muggles beat her up but they were killed by his father. His father got sent to Azkaban while he, Aberforth, Ariana and his mother moved to Godric's Hollow. He attended Hogwarts and his friend Gellert went to Durmstrang Institute but were friends. His sister died at the age of 14. Albus was sorted into Gryffindor and Gellert was sorted into Sphynxond. When Albus was 18, he took a grand tour with Elphias Doge. His mother was dead! Albus returned to where he moved to so he can care for his siblings. Doge went on to the adventure. His was resented to Harry. His friend was expelled from Durmstrang. He and Grindelwald met each other. They sent letters to each other at midnight. Ignotus Peverell the son of Albriech Ambratorix had died. Grindelwald pushed many ideas onto Al. This wizard was the champion to keep Muggle-borns safe. Did he know, in his heart of hearts, what Gellert Grindelwald was? He awards points to students back after they're deducted. Severus Snape killed him in 1996.
This letter was sent at midnight.
His favourite colour is red