Anthony Goldstein
Biographical information
Born

15 May 1980

Blood status
Title(s)

Prefect

Physical description
Species
Gender

Male

Hair colour

Blond

Skin colour

Light

Family information
Family members
Magical characteristics
Patronus

Reindeer

Affiliation
House
Loyalty
.

Anthony Goldstein was a wizard who was a student in Harry Potter's year at Hogwarts School of Witchcraft and Wizardry. He was Sorted into Ravenclaw and became friends with fellow Ravenclaws Terry Boot and Michael Corner.
Biography
[
]
Hogwarts years
[
]
Early years
[
]
Anthony Goldstein started his education at Hogwarts in 1991. During the Welcoming Feast Anthony was sorted into the house of Ravenclaw, head of house was Filius Flitwick. Anthony became friends with fellow Ravenclaws Michael Corner and Terry Boot during his first year and would share a dorm with the boys.
Fourth year
He asked out Mandy Brocklehurst (whom he had a crush on) to the Yule ball and she accepted overjoyed because she had formed an obsessive crush on him.
Fifth year
[
]
In his fifth year, Anthony became a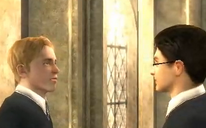 prefect along with Padma Patil. During his fifth year, Anthony would become a member of Dumbledore's Army, an organisation against Dolores Umbridge and the Ministry's increased control over the running of Hogwarts. He attended several of the meetings. Anthony did not fight in the Battle of the Astronomy Tower when the D.A. members were called to arms.
Seventh year and Battle of Hogwarts
[
]
In his final year, he was part of the revived D.A., meaning he was allowed access to Hogwarts whilst under the regime of Severus Snape, indicating him to be of half or pure blood. Anthony fought in the Battle of Hogwarts, Anthony fought with Terry Boot during the battle to protect the Stone Bridge of Death Eater attacks and Giants. Anthony survived the battle with only a few injuries.
Later life
[
]
Anthony married Marietta Edgecombe who bore him a son named Joseph, who embarked in 2017 on the Hogwarts Express for his first year as a student.