Bem
Biographical information
Born

c. 1980, Nigeria

Blood status
Physical description
Species
Gender

Male

Hair colour

Black

Eye colour

Brown

Skin colour

Brown

Affiliation
House
Loyalty
.

Bem (last name unknown) was a Nigerian wizard who attended Hogwarts School of Witchcraft and Wizardry from 1991 to 1998. He was sorted into Gryffindor in Harry Potter's year. However, it is speculated that Bem had exceptional magical talent and took classes above the average level for his age, thus why he did not room with the Gryffindor boys in Harry's year.
Biography
Third year

During his third year, Bem chose Care of Magical Creatures and Divination when he attended Professor

Bem is spotted as a part of Dumbledore's army.
Trelawney's lesson. He was present to witness Harry Potter open his new broom he received from Sirius Black and watched him give it it's first test fly.
Fifth year
Seventh year

During his seventh year, Bem participated in the Battle of Hogwarts. He picked up a good fight against a giant. Bem used a powerful spell to defeat the giant, and pushed it off the edge. He witnessed the death of Harry Potter, but they soon discovered that he was alive, and he continued to fight against the remaining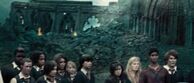 Death Eaters, surviving the Battle to witness Harry's defeat of He-Who-Must-Not-Be-Named.