Pike
Biographical information
Born

c. 1980

Blood status
Physical description
Species
Gender

Male

Hair colour

Blonde

Eye colour

Brown

Skin colour

White

Family information
Family members

Lucas Pike (son) Tracey Davis (wife)

Affiliation
House
Loyalty
.
Pike was a Slytherin student who attended Hogwarts in the 1990s and was sorted into Slytherin house.He was commonly seen between 1993 and 1994 with Draco Malfoy, Vincent Crabbe, and Gregory Goyle
Biography
[
]
1993-1994
[
]
(Pike) began his education at Hogwarts in 1991 and was sorted into Slytherin house.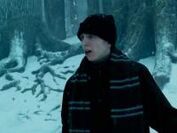 In the movies, He was part of Draco Malfoy's gang in 1993 and 1994 and was one of the Slytherins that imitated a Dementor to scare Harry in the first Care of Magical Creatures class of the year. He was later among those whom Harry threw snowballs at in Hogsmeade under his Invisibility cloak around Christmas time. He was also with Malfoy in the Stone Circle when Malfoy was punched by Hermione Granger in 1994.