Biographical information
Born

in insane asylum

Blood status
Title(s)

secret Malfoy waiting in the wings

Physical description
Species

human snake

Gender

female

Hair colour

blonde

Family information
Family members

Luicus Malfoy

Narcissa Malfoy † mother

Draco Malfoy brother

Nick son

Magical characteristics
Wand
Affiliation
House
Loyalty

Malfoys

.
the fanmade
Draco Malfoy sister Caitlin Malfoy a Harry Potter spin-off. The series still in process into scripts can be found on facebook she next cursed child after Delphi riddle Caitlin" Caitlin Malfoy born 1976 was a pure-blood wizard and the daughter of Lucius Malfoy II and Narcissa Malfoy. And the new nemesis and bully James Potter II year at Hogwarts School of Witchcraft and Wizardry. She was sorted into Slytherin in 2015.
Early years
[
]
first year
[
]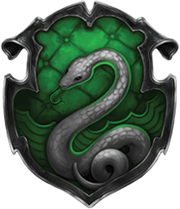 In 2015, Caitlin went to the Hogwarts School of Witchcraft and Wizardry and was soon sorted into Slytherin. and an During the banquet, she made friends with two boys her age, Will Crabbe and Luke Goyle /Melissa Goyle /Violet Parkinson / Antonie Zabini /Lucas Pike and Rose Weasley would be part of her gang in Caitlin Malfoy Series
had affiar with James's father Harry Potter got knock up by Harry having harry's baby
other series
[
]
female gang Ivy Duke and Malissa Goyle / Rea-Lynn Snow as Caitlin a crush on Edwin Montague she dates him he ask her be his girlfriend do get together
Personality and traits
[
]
is the prototypical spoiled, rich brat; and social position gives him the right except Malfoy is way more dangerous. she's your typical Slytherin  cunning and devious, with a tendency to use magic for cruel reasons. as an easy target, he's also mean to people like cruel and power-hungry, but ultimately cowardly. Caitlin may put up a front of being a fearless bully, and and a psychopath