Dunstan Sangster
Biographical information
Born

29 December, 1959 Tutshill, Tidenham, Gloucestershire, England

Died

24 August, 1981 (aged 22) Inveraray, Argyll, Scotland

Blood status

Pure-blood

Title(s)
Physical description
Species

Human

Gender

Male

Hair colour

Black

Eye colour

Brown

Skin colour

Dark

Family information
Family members

Duncan Sangster (father)
Jane Sangster (née MacIver) (mother)

Magical characteristics
Wand

12", Ash and Unicorn Tail Hair

Affiliation
House

Slytherin

Loyalty

Sangster family
Hogwarts School of Witchcraft and Wizardry
Lord Voldemort

.

Dunstan Sangster (29 December, 1959, - 24 August, 1981) was an English pure-blood wizard who attended Hogwarts School of Witchcraft and Wizardry from 1 September, 1971 to June 1978. He was born in Tutshill, Gloucestershire, England, and was the son of Duncan Sangster and Jane Sangster (née MacIver).
He played Beater on the Slytherin Quidditch Team at school, and kept the position for four years. After his graduation he became a Death Eater, and died in late August 1981, during the First Wizarding War.
Biography
[
]
Early life
[
]
Dunstan Sangster was born on 29 December, 1959, in Tutshill, Gloucestershire, England, into the pure-blooded Sangster family. His father was Duncan Sangster, and his mother was Jane, a daughter of the pure-blood Scottish MacIver family.
Hogwarts years
[
]
He received his Hogwarts letter in the summer of 1971. That same summer, he presumably visited Diagon Alley, located in London, and purchased a wand from Ollivander's Wand Shop. He may have also inherited a wand from somebody else. On 1 September, 1971, he boarded the train for Hogwarts and was sorted into Slytherin House that same night. He shared a dormitory with Ansel Quick and Stefan Wilkes. Some of the other boys in his house were Wulfric Mulciber, Caspar Avery, and Severus Snape.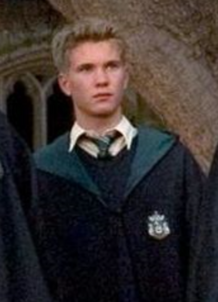 In his fourth year of school, Dunstan Sangster tried out for the Slytherin Quidditch Team, and made the cut. He played the position of Beater alongside Alban Seward, and that year they won the Quidditch Cup. In his sixth year, however, the Slytherin Team lost in what was considered to be the most grueling game in living Hogwarts memory. The Slytherins, captained by Lucinda Talkalot, lost to Gryffindor by 530 points.
Later life
[
]
Upon leaving Hogwarts, Sangster entered the service of the Dark Lord, during the height of the First Wizarding War. He, alongside many others such as Evan Rosier and Finneas Parkinson, attempted to evade arrest when the Ministry of Magic was able to turn the tides, and was unsuccessful. He was killed on 24 August, 1981, about a month after Evan Rosier.
Etymology
[
]
The name Dunstan is of Anglo-Saxon origin and came from when a family lived near a stony hill. ... Dun was a word for hill, and stan meant "stony."
The surname Sangster is of English origin, and was either an occupational name for a singer or chorister, or, a nickname for a person who was always singing. It is derived from the Old English pre 7th Century 'sangere' or 'songere' meaning 'singer'.