Eric Laughalot
Biographical information
Born

c. 2001

Blood status
Title(s)
Physical description
Species
Gender

Male

Hair colour

Dark Brown

Skin colour

Withe

Family information
Family members

Steve Laugahlot (descendent)

Affiliation
House
Loyalty
.
Eric Laughalot
was the
Captain
of the
Slytherin Quidditch Team
during the 2017-2018
Quidditch
season at
Hogwarts School of Witchcraft and Wizardry
. He was part of the Slytherin Quidditch team in previous years as a chaser when the team was led by
Eustace Birch
. Eric shows have a great rivalry with the Gryffindors, especially with the team captain
Larry Kirke
. Laughalot also shows slightly negligent with respect to another Slytherin Chaser,
Demelza Willians
.
Biography
Edit
2017-2018 school year
Edit
In 2017, after graduating from the former team captain, Estace Birch, Eric was chosen to be the captain of the Slytherin Quidditch team. Eric was very firm with its ambitious goal of being the Hogwarts Cup champion. He never very successful in training arm pulled at any time of day, regardless of weather conditions. However,
Nicholas Higgs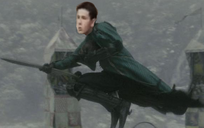 also ensures that Eric seems a harmless Bowtruckle.