Firenze's band
Organisation
Founder
Founded

Forbidden Forest

Leader(s)
Headquarters

Forbidden Forest

Intentions

Protect the Florest

Affiliation
Enemies
Behind the scenes
Firenze's band
is a band of centaurs who live in the Forbidden Forest. The group is connected to the
colony of centaurs in the forest and is also very respectful of the traditions and centaurs. However, the band is extremely hated by Bane and his alida, who didn't accept the return of Firenze the colony.
2017-2018 school year
Edit
Firenze: "Are seeing. I said that focusing the light from Venus to the east was the sign of someone in danger."
Rubeus Hagrid: "How would they get here?"
Firenze: "An unusual light on Venus focusing on the east was the sign of someone in danger."
Scorpius Malfoy': "We already know that!"
— Firenze explains the lights of the stars after saving Albus, Scorpius and Hagrid of the Acromantula's attack.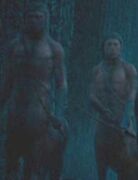 Firenze's band appeared at the site of the ambush when a spell of Scorpius cleared the area and caught the attention of the centaurs. When they arrived on the scene, Firenze killed the acromantula
Moragog
and then gave support to
Malcolm Baddock
who was near death, especially
Varenze
, the healer of the band.