Flora Carrow
Biographical information
Born

c. 1983

Blood status
Physical description
Species
Gender

Female

Hair colour

Brown

Skin colour

Pale

Family information
Family members
Magical characteristics
Affiliation
House
Loyalty
.
Flora Carrow was a witch who attended Hogwarts School of Witchcraft and Wizardry in the 1990s and the twin sister of Hestia Carrow.
Biography
Edit
She was sorted into
Slytherin
along with her identical twin sister,
Hestia
, and both girls were members of the
Slug Club
during the
1996–1997 school year
.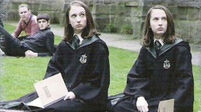 They are related to to Death Eaters, Alecto and Amycus Carrow. She and her sister were generally quiet at Slug Club meetings, and both had a fondness for the colour green, which they wore not only as part of their House robes, but by choice, as reflected by the formal dresses they wore to the Slug Club Christmas party.
At the start of The Battle of Hogwarts Flora and her sister were seen departing to the Dungeons. Flora had no desire to participate in the Battle of Hogwarts, nor curious about it (unlike his sister, who wanted to venture into the battlefield). Both sisters have always gone together, and even in the midst of a riot, Flora noticed when his sister was separated from the group evacuation. She asked Malcolm Baddock, a classmate, if he had seen Hestia, but the boy denied. Flora had no knowledge of what occurred with her father and her twin sister by the time the battle was over and their bodies were exposed in the Great Hall.