Fog
Physical description
Species

Goblin

Gender

Male

Hair colour

Brown

Skin colour

White

Affiliation
Occupation

Stockbroker

Loyalty
.
Fog was a stockbroker tha worked for Gringotts Wizarding Bank and was a member of Serpent Society.
Biography
[
]
1991
[
]
By the end of the summer of 1991, this goblin worked at Gringotts Wizarding Bank.
1993
[
]
During the Christmas holidays in 1993, this goblin was among a group of carollers in Hogsmeade Village. He was rudely pushed aside by an angry and Invisibility Cloaked-Harry Potter.
1995
[
]
On 11 August 1995, this goblin lost a large amount of gold trading on the potions market. The following day, he went to the Ministry of Magic Headquarters, in London, to take care of business, where he told a wizard the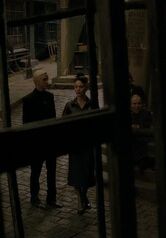 "terrible day" he had the day before.
1996
[
]
By 1996, this goblin still worked at Gringotts, on the then-almost deserted Diagon Alley.
2017
[
]
In mid-2017, Fog joined Yaxley becoming a member of Serpent Society. In the same year, Fog, was taken to the town of Budleigh Bugmoreton, to trap Epibalsa McNaught. No one knows the fate of Fog after the Serpent Society disbanded.