Fred Arthur Weasley II
Biographical information
Born

March, 2005
Great Britain

Blood status
Physical description
Species

Human

Gender

Male

Hair colour

Red

Eye colour

Black

Family information
Family members
Magical characteristics
Boggart

His Grandmother Molly Weasley

Affiliation
House
Loyalty
.
Fred "Freddie" Lee Weasley II (March, 2005) was the eldest son of George and Angelina Weasley (née Johnson) by Minute. He started to attend Hogwarts School of Witchcraft and Wizardry in 2016 with his sister and cousin. and was sorted into Gryffindor. Fred was named after his late uncle Fred Weasley and has a younger sister named Roxanne.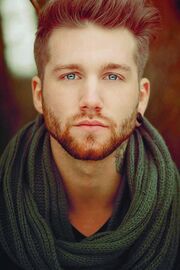 He was Orphaned during his 5th year after a group of Neo-Deatheters sabotaged His Fathers shop for weapons under his fathers Noees and when His father found out his Parents kidnapped Teddy lupin who was working as this protogey and as revenge for his uncle ron for freeing him they went after His mtoher killingher first and Geroge perished inn the insuing seige