Jeremy Stretton
Biographical information
Born

c. 1978

Died

2 May, 1998

Blood status
Title(s)

Chaser

Physical description
Species
Gender

Male

Hair colour

Brown

Eye colour

Brown

Skin colour

Light

Family information
Family members

Nicholas stretton (Father)
Amy Stretton née Ivory (Mother)
Imogen Stretton (sister)

Affiliation
House
Loyalty
.

Jeremy Stretton was a Ravenclaw student who attended Hogwarts School of Witchcraft and Wizardry. He was a Chaser during the 1993–1994 school year.
Biography
[
]
Early life and earlier Hogwarts years
[
]
Jeremy was born c.1978. He began attending Hogwarts in 1989 and was sorted into Ravenclaw house. He joined the Ravenclaw Quidditch team as a Chaser. During his years as a student Jeremy was always proud of having followed the path of Ravenclaw and hoped that her younger sister Imogen Stretton would do the same. They were never friends, but Jeremy hoped that if she came to his house they could improve your relationship, but things got worse when Imogen went to Slytherin.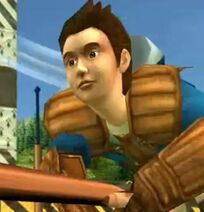 Battle of Hogwarts and death
[
]
Knowing that Hogwarts was under attack from Voldemort and his Death Eaters, Jeremy returned to school fearing the worst from happening to your sister. While not getting along very well, he was willing to fight for his life and the life of her younger sister. During the attack Jeremy faced Death Eaters surrounding the young students who were evacuated from the school, he along with his friend Roger Davies, fought against the Death Eaters. At the end of the battle, Imogan was the subject of a Killing Curse, and Jeremy gave his life to save her sister. After the battle his body was brought back by Roger instead of a stretcher, under the tears of Imogan.