Louis Weasley
Biographical information
Born

11 August 2006

Blood status

Half Blood/One-eighth Veela

Physical description
Species
Gender

Male

Hair colour

Blonde

Eye colour

Light Blue

Skin colour

Light

Family information
Family members

Bill Weasley (father)

Fleur Weasley (mother)
Victoire Weasley (sister)
Dominique Weasley (sister)
[[[Mia]]]]]] (deceased fiancé)
Arthur Weasley (paternal grandfather) †
Molly Weasley (paternal grandmother)
Monsieur Delacour (maternal grandfather)
Apolline Delacour (maternal grandmother)
Gabrielle Delacour (maternal aunt)
Black family

Magical characteristics
Wand

Unknown

Patronus

Scottish Terrier

Affiliation
House

Ravenclaw

Loyalty

The Golden marauders Ravenclaw Ravenclaw quidditch team

.
Louis Weasley (b. 11 August 2006) was a wizard, and the youngest child, and only son of Bill Weasley and Fleur Delacour. He has two elder sisters, Victoire and Dominique. Louis is the only character in the series that is known to be male and has Veela blood, however, unlike his sisters, he demonstrates no ability to win people over.
Biography

[

]
First year

[

]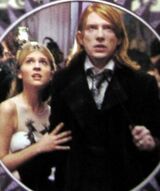 On 1 September 2017, Louis Weasley seemed confident in his departure aboard the Hogwarts Express. Louis crossed the Black Lake along with his cousin Albus Potter, Isis Cresswell and Emily Jenkins. He was one of the few students who did not fear the selection, but had been nervous when the Sorting Hat was placed on him. However, in the end, he had been selected for the Huffpuff house. Louis is famous for being talkative, and also being friendly too, but this small inconvenience didn't stop to make great friendships, as did with Ignatius Finch-Fletchley and Morgan Hallterman, two roommates.

he Developed a crush on a Ravenclaw girl named Mia The two started dating, when they were 18 Louis propose to her. She was killed a few days before the wedding Louis never married anyone because he couldn't replace her.
Physical Appearance

[

]
He has light skin, light blue eyes, and thin lips and Blond hair like Victoire.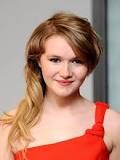 Etymology

[

]
Louis is a French name which means "Famous warrior" from the Old German 'Chlodovech'.