Marcus Belby
Biographical information
Born

c. 1979

Blood status

Pure-Blood

Physical description
Species
Gender

Male

Family information
Family members

Father
Democles (Uncle)
Flavius Belby (possibly)

Affiliation
Occupation

Bartender

House
Loyalty

Belby family
Hog's Head Inn

.

Marcus Belby (c. 1979) was a Ravenclaw student at Hogwarts School of Witchcraft and Wizardry from 1990 to 1997 who was considered for membership in the Slug Club in 1996. His uncle, Damocles created the Wolfsbane Potion, a noteworthy act that awarded him the Order of Merlin. However, Marcus' father was not on good terms with the famous potioneer, and for this reason, Horace Slughorn ultimately passed Marcus over; when Slughorn handed out pie, Marcus was somehow missed due to this.
Marcus was described as thin and nervous-looking. He tried to answer one of Professor Slughorn's questions too fast and began choking on a pheasant; Slughorn had to cast Anapneo to clear his throat.
He participated in the Battle of Hogwarts where he stood beside Slughorn in defending the castle. Marcus fought bravely in the battle, and awarded after the battle ended. After he graduated from Hogwarts, Marcus got a job in Hogsmeade with the help of Aberforth Dumbledore, as a bartender in the Hog's Head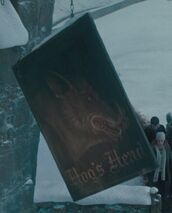 .