Margeret M Weasley
Biographical information
Born
Blood status
Title(s)
Physical description
Species
Gender
Hair colour
Eye colour
Skin colour
Family information
Family members
Magical characteristics
Patronus
Affiliation
Occupation
House
Loyalty
.
Molly Weasley II (b.2004) was the oldest daughter of Percy and Audrey Weasley. She has an younger sister,Lucy. She is named after her paternal grandmother.
In her fifth year at Hogwarts, Molly received a letter from Deputy Headmaster saying that she was chosen as prefect of her house.
Family
[
]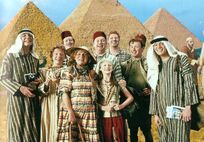 Molly has a great relationship with her family while having to follow the path of Gryffindor.
Physical appearance
[
]
Molly, much like her father, has red hair. She has brown eyes. She inherits her light skin from both Weasley & Pevensie Families.
Personality
[
]
"Molly the second but just as Fierce as the first."
Description about Molly in Daily Prophet.

She is known to be the second most responsible Weasley cousin,following after Victoire.

Later Life
[
]
She has always have had an affinity for cooking. After Hogwarts, she opens up the first ever wizard-kind magical hotel,expanding Leaky Cauldron. She meets the grandson of Jacob Kowalski & Queenie Goldstein, Jake II who shares many interests with her. Later,both get married and have a son named Ben.