Nicholas Higgs
Biographical information
Born

c. 2000

Blood status
Title(s)

Keeper

Physical description
Species
Gender

Male

Hair colour

Brown

Skin colour

White

Family information
Family members
Magical characteristics
Wand

Unknow

Affiliation
House
Loyalty
.
Nicholas "Nick" Higgs
is a wizard who attended
Hogwarts School of Witchcraft and Wizardry
from 2011 to 2018, and was the
Keeper
on the
Slytherin Quidditch team
from 2014 to 2018.
Nicholas comes from the Higgs family, a traditional family in the magic world that still retains their pure blood. He has an unstable and explosive temper through being too friendly with his friends and very dangerous to their enemies. He likes to talk loud and doEs not give much importance to detail. His greatest passion is Quidditch, a sport that seems to emerge in the blood of all of his family since his father was the Slytherin Seeker and his sister did the tests for the team, but were not successful. Nicholas' Quidditch team is the Falmouth Falcons.
Biography
Edit
Hogwarts education
Edit
Early years
Edit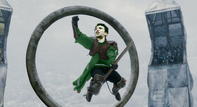 Nicholas Higgs attended
Hogwarts School of Witchcraft and Wizardry
from 2011 to 2018. He joined the Slytherin Quidditch team as a
Keeper
, and became a champion with the team of Eustace Birch during his fifth year as a student.
Seventh year
Edit
Nicholas Higgs:"It is mad to get a place. Eric only will call you for the team only if he was poisoned. I am ten times better keeper than you.."
Brutus Nott: "Just for one more year. And look how he talks to me, Higgs!."
—Nicholas Higgs and Brutus Nott.
In his final year at Hogwarts, Nick kept his post as keeper of the Slytherin Quidditch team. He helped Captain Eric Laughalot during testing for new players, which his younger sister attended. During the games,

Higgs shown to be a good goalkeeper, but had difficulties to play during the match against Ravenclaw, and particularly do not like penalties.It isn't known as Nico is off the field as a student, but know he likes to pick on the Slytherin's prefect, Brutus Nott, who wants his position as keeper.
.