Severus Tobias Kalovan Snape
Biographical information
Born

9 January, 1960 49 Spinner's End, Cokeworth, Derbyshire, England, Great Britain

Died

2 May, 1998 (aged 38) Shrieking Shack, Hogsmeade, Highlands, Scotland, Great Britain

Blood status
Matrial

Single

Alias(s)

Half-Blood Prince

Snivellus (by Moony, Wormtail, Padfoot and Prongs)

Sev (by Lily Evans)

Slytherin (Potterwatch)

Title(s)

Head of Slytherin House (1981-1997)

Signature

Severus Smape

Physical description
Species
Gender

Male

Hair colour

Black

Eye colour

Black

Skin colour

Salloe

Family information
Family members
Magical characteristics
Boggart
Wand

Unknown

Patronus
Affiliation
Occupation

Death Eater (After he finished Hogwarts-1980)

Potions Master at Hogwarts (1981-1996)

Head of Slytherin House at Hogwarts (1981-1997)

Professor of Defense Against the Dark Arts at Hogwarts (1996-1997)

Headmaster of Hogwarts (1997-1998)

House
Loyalty

Voldemort (defected)

Hogwarts School of Wizardry and Witchcraft

Death Eaters (defected)

.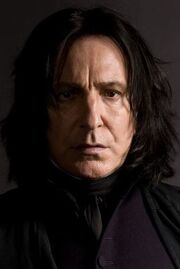 "Albus Severus, you were named after two headmasters of Hogwarts. One of them was a Slytherin. And he was the bravest man I've ever known."
-- Harry Potter's high opinion of Alan Rickman's favourite character that he played.