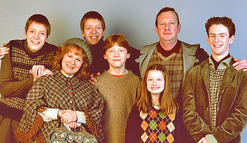 The Weasleys are considered one of the prominent wizarding families, although their lack of money and their sympathy for non-pure-blood wizards and even Muggles makes others look down on them. They lived in The Burrow, a ramshackle house of four or five stories "a little way outside" the village of Ottery St Catchpole.
They were included in the Sacred Twenty-Eight list, published in the Pure-Blood Directory by the 1930s. However, they deplored their inclusion in the list, because they said they had ancestral ties to many interesting Muggles. Their protests earned these families the opprobrium of advocates of the pure-blood doctrine, and the epithet 'blood traitor'.[2]
For the last couple of generations, the Weasley children have all been male. Arthur, for example, is one of three brothers. Ginny Weasley was the first girl to come along for quite some time. Both Molly and Arthur are related to the Black family.
When Harry Potter befriended Arthur and Molly Weasley's youngest son, Ronald Weasley, the Weasleys became a second family to Harry. The Burrow became Harry's home away from home and Arthur and Molly served as de facto godparents in Sirius Black's absence. Harry would eventually marry into the family when he married Ginny.